Coshocton Football Little League Camp
The Coshocton Redskins Football program will be hosting a little league football camp at Stewart Field for students entering grades 3-6. The camp will be held from Tuesday, May 31st through Thursday, June 2nd from 10:30 am - 12:00 pm. If interested please fill out the camp form and return it to Coach Smith. See the camp form for additional information and details.
Go Skins!
Coshocton Planetarium Spring Shows
The Coshocton Planetarium will be holding a Spring show on February 28, March 1,2,3,7, 8,9, and 10. There will be two different shows on different nights. All programs are free to the public, donations are accepted and greatly appreciated.
On February 28, March 1,2,3, and 7 we will be showing "From Earth to the Universe" where we will travel from Earth through the Solar System and out to our galaxy the Milky Way seeing what all our Universe has to offer. The shows are from 7-8 pm.
On March 8, 9, and 10 we will be showing "One World, One Sky- Big Bird's Adventure" where we will join Big Bird, Elmo, and friends discussing the night sky including some constellations, stars, and the moon. This show is gauged for family audiences with younger children. We will have two showtimes on these three nights: 6-7 pm and 7-8 pm.
Planetarium T-Shirts will be sold for 15$ each- available from Youth Medium to 2XL
Please visit coshoctonplanetarium.com to schedule your visit to the Coshocton Planetarium. If you have any questions please contact Mallory Palmer at mallory.palmer@coshoctoncityschools.com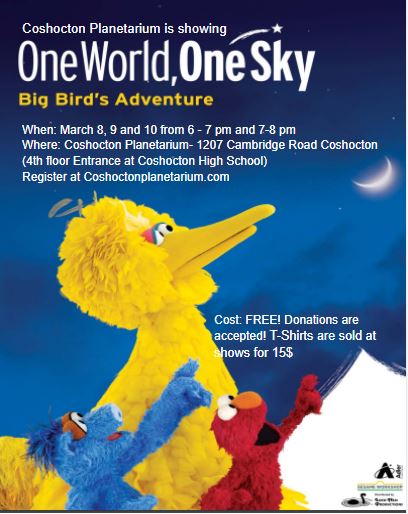 Coshocton City Schools is searching for a full-time McKinney-Vento Coordinator/Social Worker for this school year to work at both the high school and elementary. See the link below for more information and the application process. Contact Grant Fauver at the District Office with any questions (740) 622-1901.
FCCLA Traffic Safety Video
Our CHS FCCLA Chapter just completed a FACTS Video on Traffic Safety for our student body. Watch the video HERE.
Coshocton High School Student Council is working with the American Red Cross to sponsor a virtual blood drive. Watch their commercial to get more information about how you can participate in the drive from home. Here is the link to sign-up for the event.
Order a 2020-21 Tomahawk Yearbook
The 2020-21 Tomahawk Yearbook is on sale NOW! You can order online at www.yearbookforever.com, or you can stop by room 413B to purchase in-person. Payment plans are available! Don't miss out on your chance to remember this crazy year. Cost is $70.00 for a hard-cover, full-color, memory-packed book full of all the things you don't want to forget about this year! Seniors: please submit your senior pictures to Ms. Aggas (katie.aggas@coshoctoncityschools.com) by March 1. They can be emailed or you can drop off a physical copy to her. Also, any senior who purchases a yearbook can get a baby picture/quote or senior shout-out ad for FREE! Go to www.yearbookforever.com to check out your options. Contact Ms. Aggas when you're ready to buy to receive your coupon code for a FREE ad with purchase of a yearbook. Sales end April 15, 2021!