Future Redskin Football players entering grades 3-6 are welcome to attend the 2023 Coshocton Football Camp. The camp will be held June 19th-21st from 12:00-1:30 p.m. at Stewart Field. The cost is $10 per camper or $15 per family. You are welcome to register on the first day of camp. Use the following link to view the camp flyer:
https://5il.co/1vlt9

REMINDER: All personal student items left at school must be picked up TODAY Friday, June 2nd at 1 pm or they will be donated/disposed of.

All personal student items left at school must be picked up by Friday, June 2nd at 1 pm or they will be donated/disposed of.
Just a reminder the elementary track camp will be this Saturday the 27th at 9am for grades 1st-6th. If your child still wishes to participate there will be a table with sign up sheets available the morning of. If registering Saturday morning Please be sure that a parent/legal guardian is accompanying child when dropping off in order to sign the form. *Any current 6th grader going into junior high is highly encouraged to attend if they are interested in running next year !

Coshocton Elementary Students are on a 2-hour early dismissal tomorrow, Thursday, May 25th. Dismissal will begin at 1:05 PM and busses will arrive at bus stops approximately 2 hours earlier than your normally scheduled time.
Kindergarten Graduation will be on Wednesday May 24th at 5:00 pm in the cafeteria at Coshocton Elementary School. Doors will open at 4:30. Students will be collected from parents at 4:45 and be taken to the music rooms behind the stage.

Coshocton Track Camp for grades 1-6. Saturday, May 27th from 9-11am at the Coshocton High School Track

6TH GRADE GRADUATION: Our 6th Grade graduation ceremony will take place on Wednesday, May 24th at 9:30 am in the Coshocton Elementary School gymnasium. Doors will open at 9:00 am for anyone wishing to attend. Please make sure your child is dressed appropriately for this event. At the conclusion of the ceremony, you are welcome to sign out your 6th grader with their homeroom teacher and take them home for the summer.

Regional Track Meet Thursday, May 25 & Saturday May 27. All tickets must be purchased online:
www.ohsaa.org/tickets
Track Division II Muskingum University. Good Luck to the Girls 4x800 Team, Boys 4x100 Team & our High Jumper


TALENT SHOW NEWS: All parents/guardians are welcome to attend today's talent show. The show begins promptly at 2 pm. Please sign in and ENTER THROUGH THE LOWER GYM DOORS.
Forms are being sent home today for the first ever elementary track camp for grades 1st-6th! The camp will be held on Saturday May 27th from 9am-11am and there will be a track meet held directly after the camp at 11 for kids to show skills they have learned all forms need to be returned by MAY 22nd. Please use the following link to view the registration form:
https://5il.co/1un5x

The Lady Redskins girl's soccer team is hosting a camp May 30-June 1st at Stewart Field from 5:00-6:30 for girls that will be in grades 2nd-6th next school year. Forms and money are due Friday, May 19th to get a t-shirt. Camp fliers are still available at school or online. Cost is $15 per player or $20 per family. Contact Coach Underwood with any questions.
https://5il.co/1u7ph

Tomorrow afternoon is the EXCITING Annual Staff vs. Grade 6 Basketball Game! All students are encouraged to wear red and black. #coshoctonpride

Coshocton Volleyball Camp for grades 3-8. June 12-14 at CHS Gym See the attached flyer for more information and to register or click the link to register
https://tinyurl.com/chsskinsvball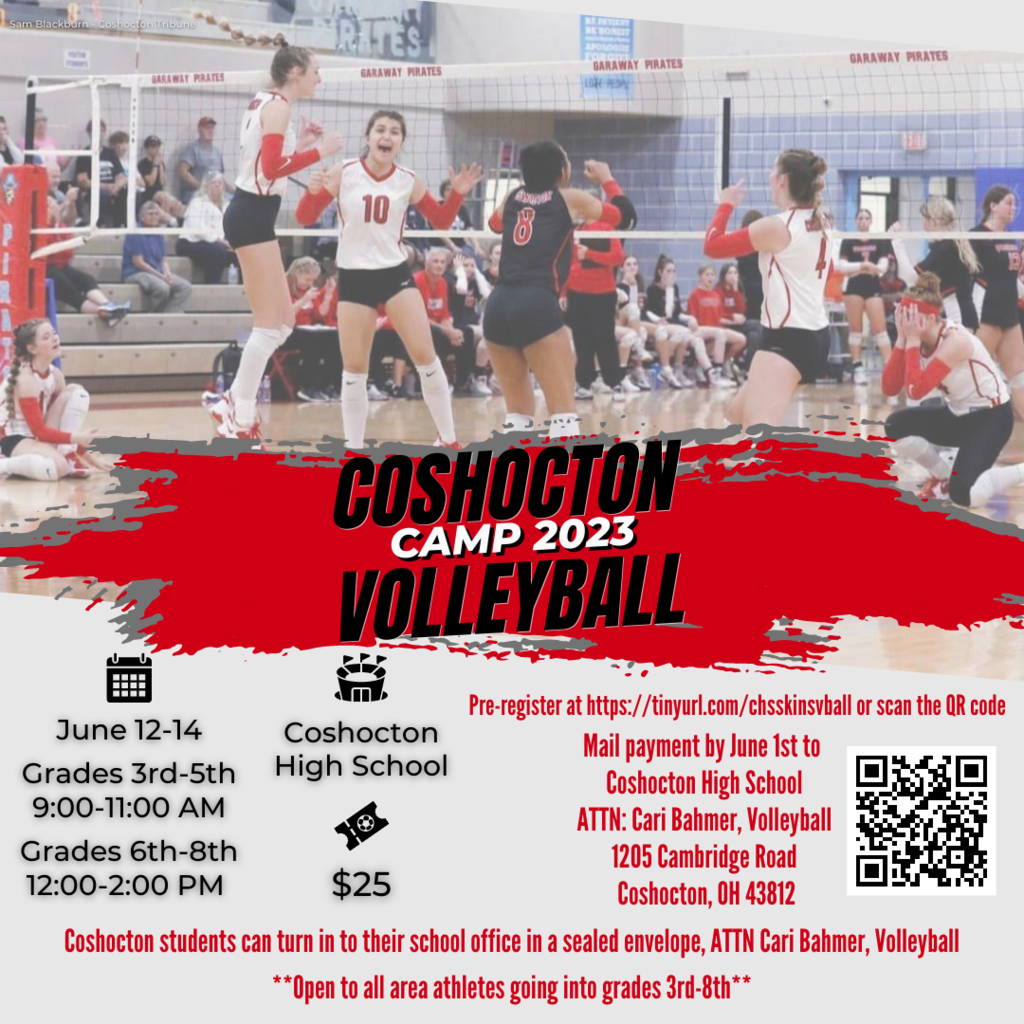 FREE Physicals - Don't forget today is physical day at CHS. You don't need to follow the time schedule, come now there is no standing in line. Remember get it today and it's good for the 23-24 school year, so that means it won't expire during your sports season.

Today was the last day to check out books, and ALL books will need to be returned by Wednesday, May 17th . We must have our inventory completed by the last day of school, so it's important to get them sent back as soon as possible. Currently, we have $3,147 worth of lost books missing from our library. Please encourage your child to search their backpacks, desks, cubbies, and bedrooms so we can all enjoy these titles next year and for years to come. If your child has lost a book, you should be receiving automated emails with the title and cost of replacement. We will also be sending home paper copies of overdue and lost book notices next week so be sure to check your child's folder.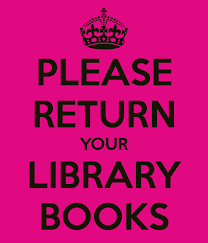 Congratulations to our CHS April Students of the Month; Maia, Emma, Dominic, Isaiah, Alyssia and Hailey! What an awesome group! Go Skins! #coshoctonpride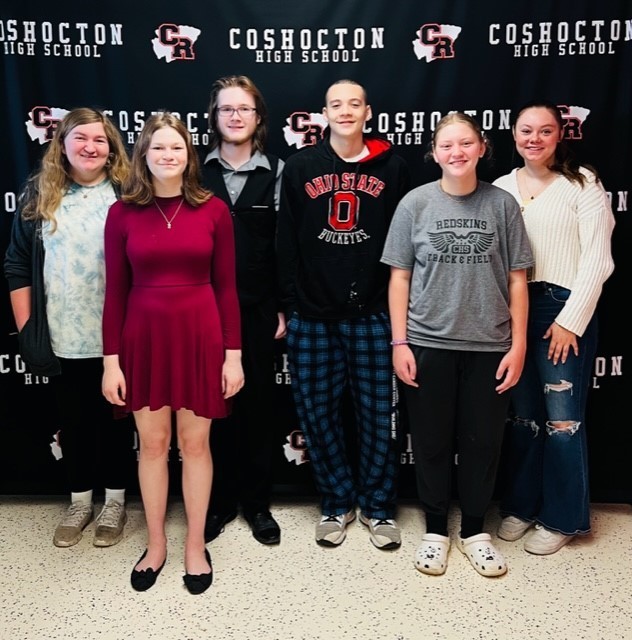 CHS April Staff Members of the Month; Ms. Aggas and Mrs. Minosky! Two great ones! Congratulations! Go Skins! #coshoctonpride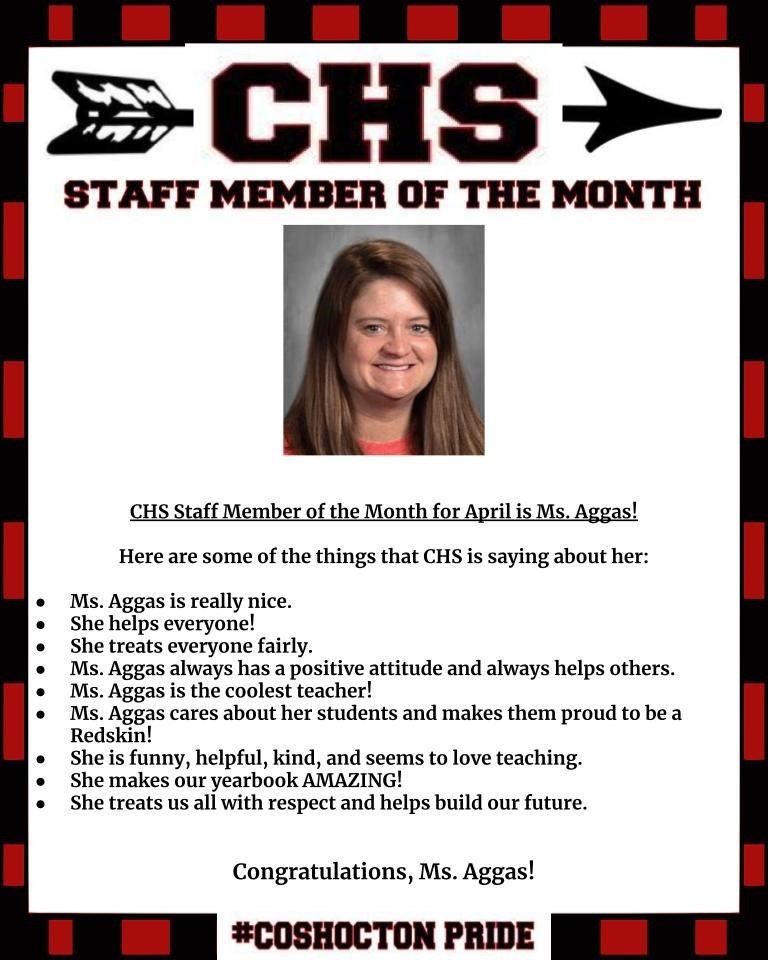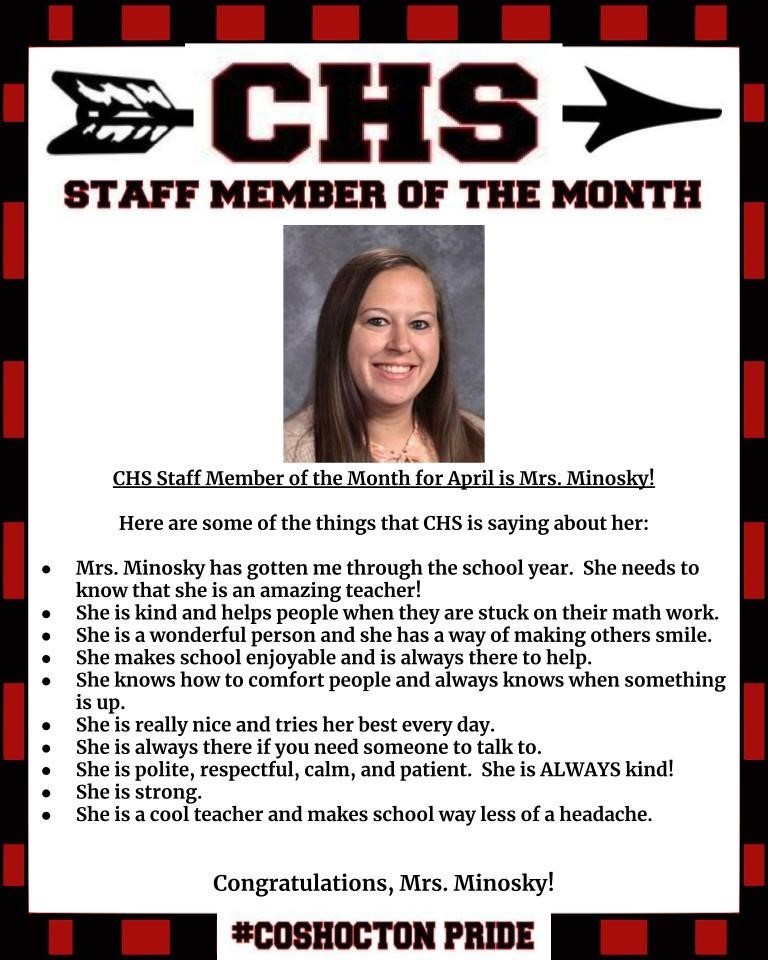 Lady Redskins will be holding a soccer camp for girls that will be in grades 2-6 next school year. Click the link below to view the Camp Flyer. Contact Coach Underwood with any questions.
https://5il.co/1u7ph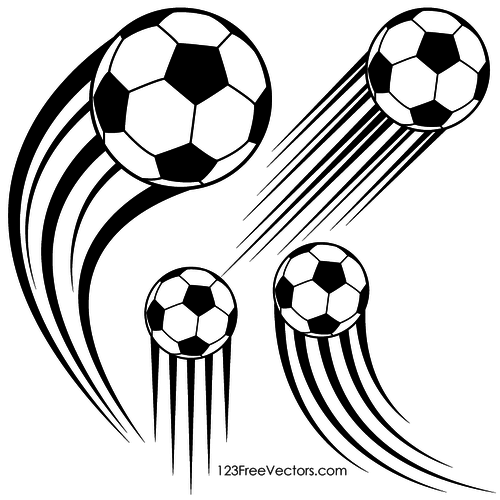 This is a friendly reminder: COSHOCTON REGIONAL MEDICAL CENTER will be hosting a FREE Walk-In Sports Physical Day on Saturday, May 13th at Coshocton High School. Visit the school web site for more information.