Coshocton High School is proud to announce the hiring of James Herman for the Head Boys Basketball Coach.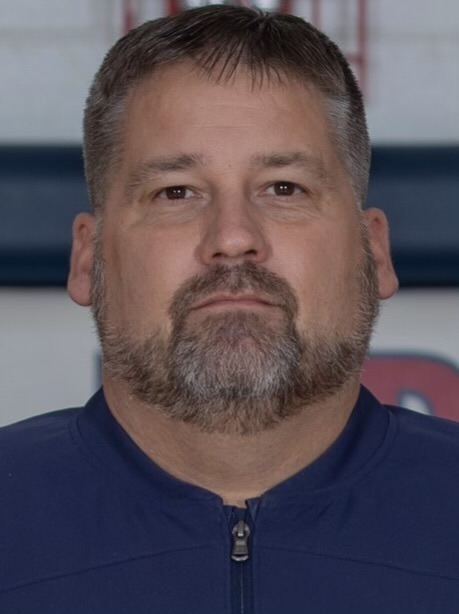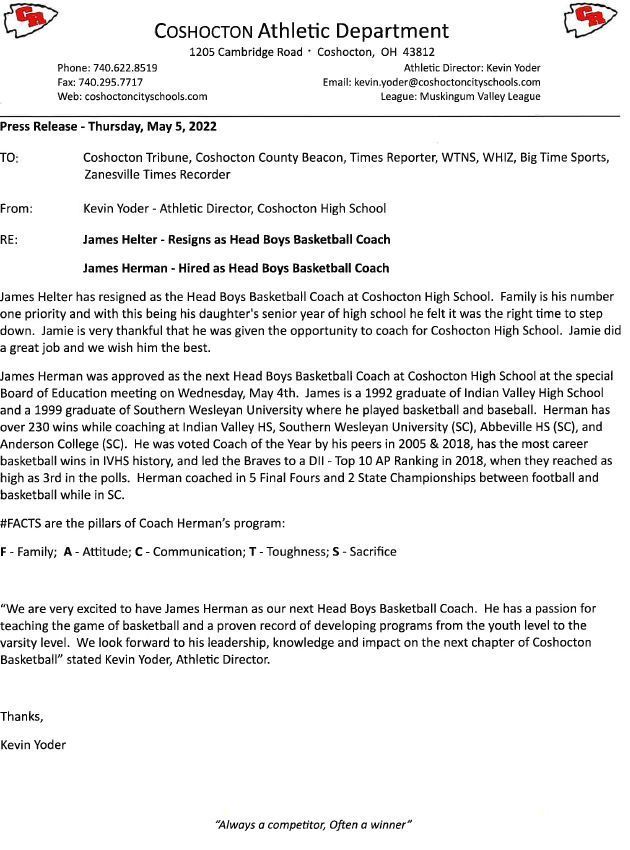 CES Yearbooks have arrived! If you pre-ordered a yearbook your student should bring it home by Friday. If you did not order a yearbook and would like one, please call HR Imaging directly at 740-369-4215. Late orders cannot be taken by our school staff.


Check out our end of the year recognition ceremonies at CHS! #coshoctonpride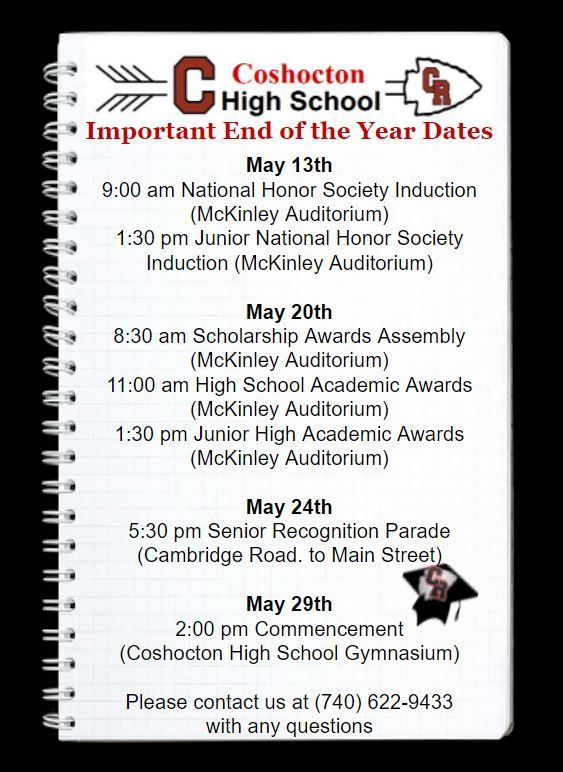 CHS Students! Help us let our teachers know how much we appreciate them with daily staff appreciation activities! Go Skins! #coshoctonpride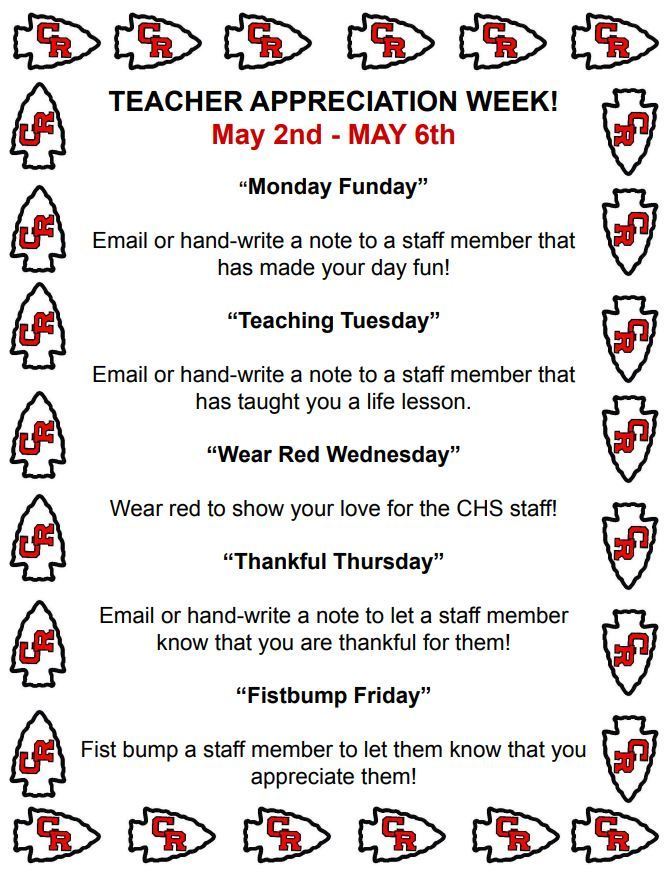 CHS Planetarium May Newsletter! Go Skins! #coshoctonpride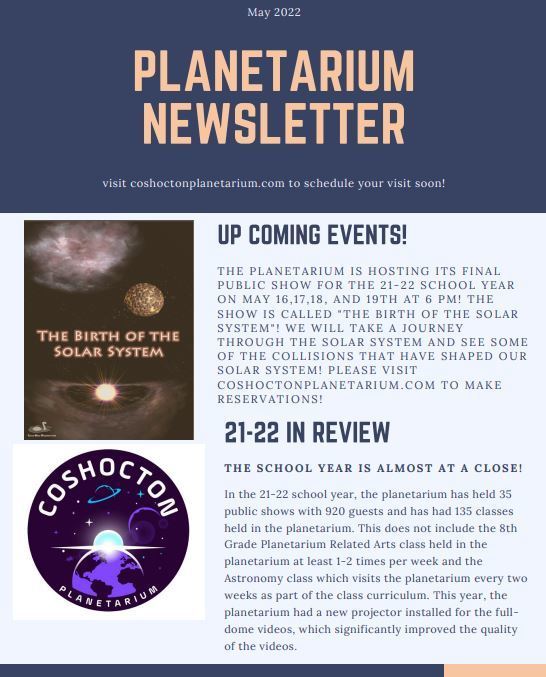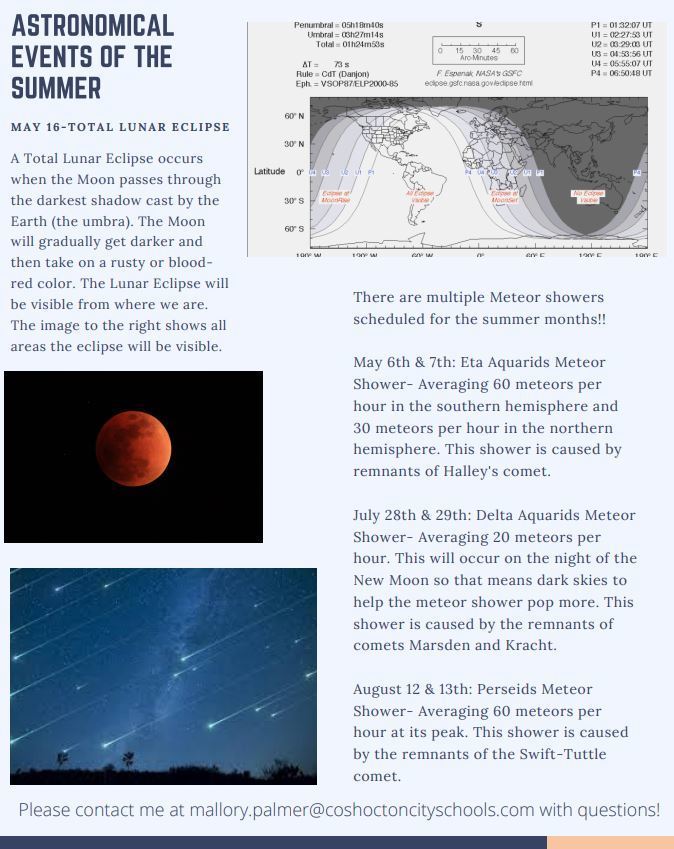 The Little Free Libraries are now ready for use!!! Find them at any of the following locations: CES, CHS, Chestnut Crossing Apartments, Coshocton Fire Dept., Heritage Apartments, and The Meadows. Books for children of all ages, and adults too! If you take book, replace it with a book! Thank you to our talented CHS artists for designing each LFL, and to an awesome group of community agencies who partnered with CCS to promote literacy! #coshoctonpride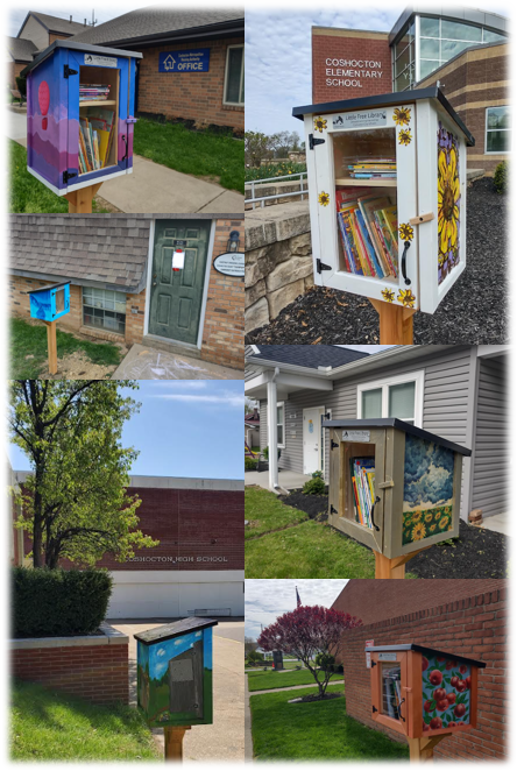 Little Free Libraries have arrived and are getting set up around our community!!! Books arriving tomorrow. check out these two at CES and CHS #coshoctonpride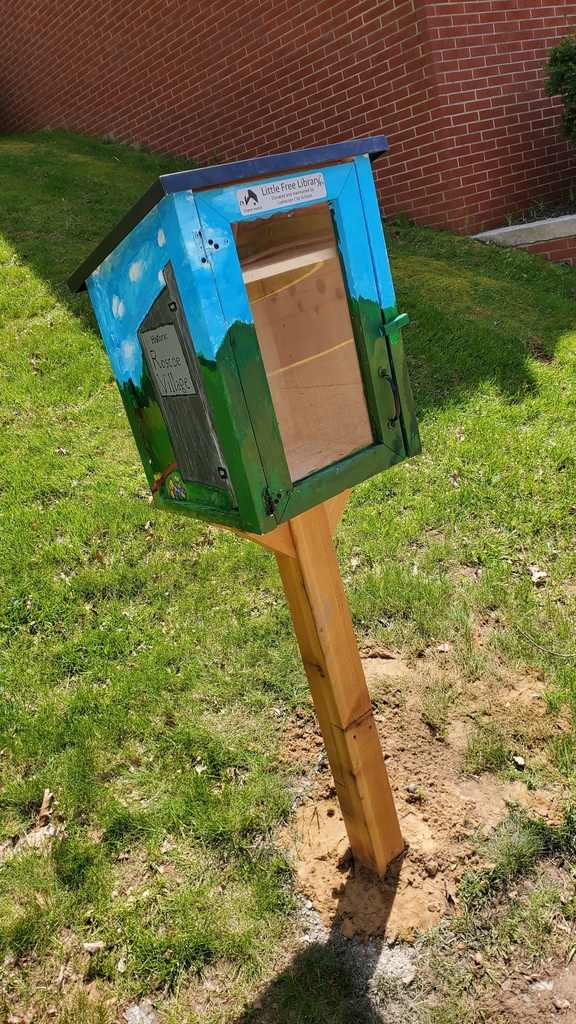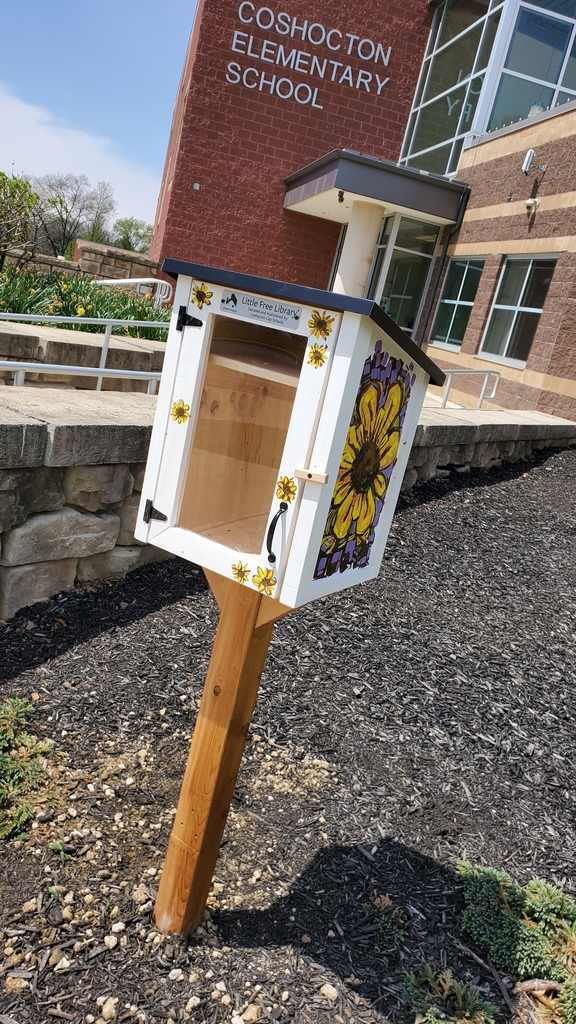 Attention Parents: Go to myCCS for Parents on our district website to check out the new information on our new GEARS after school and summer school program, College Credit Plus, and Pre-School Registration! #coshoctonpride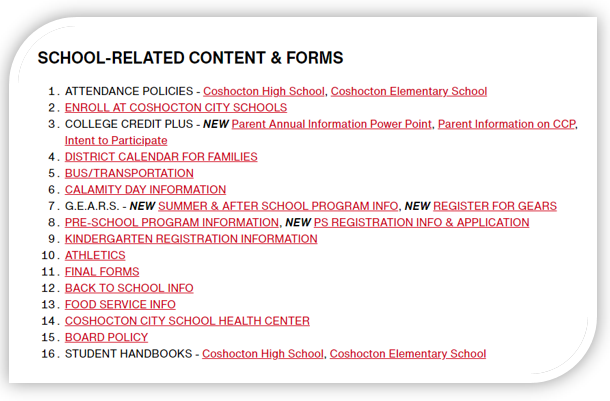 Senior Wrestler Ethan D. receives a Board Commendation last night from Board President Phil Hunt to cap off a tremendous fours years as a Redskin. He finished 107-41 overall in his career with two state championship berths. Congrats Ethan! #coshoctonpride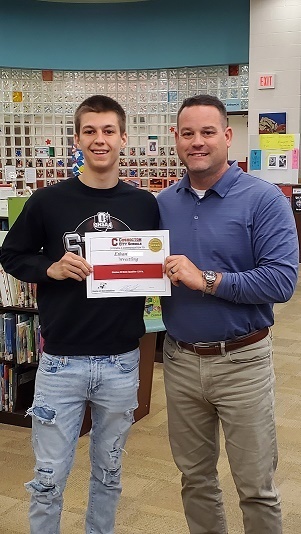 Join us for some fun Coshocton family activities that are coming up with our local Dogwood festival. Hope to see you there. #CoshoctonPride
https://5il.co/19fia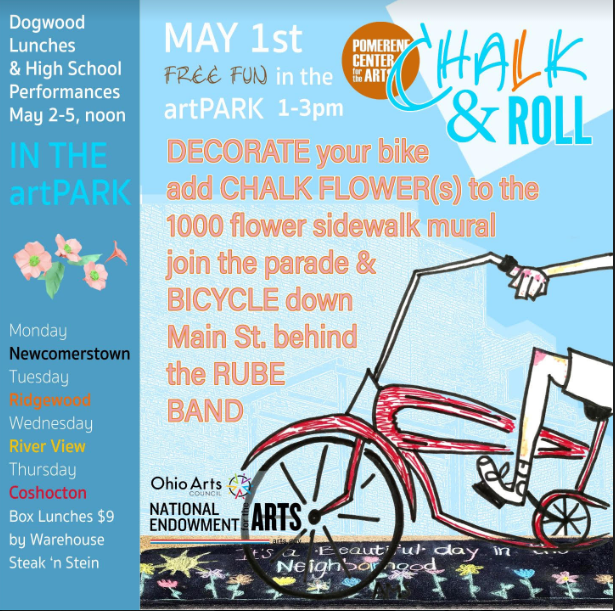 Summer Programming opportunities June 13-24 August 1-12 Academics (Math and Reading Assistance) 8am-11:30am GEARS (Growing Educated And Responsible Students) Program 11:30-2:30pm GEARS is social/emotional growth, clubs, and fun activities. Bus transportation, breakfast, and lunch are all provided. Sign up by May 13th. Enrollment applications were sent home Friday, April 22, 2022.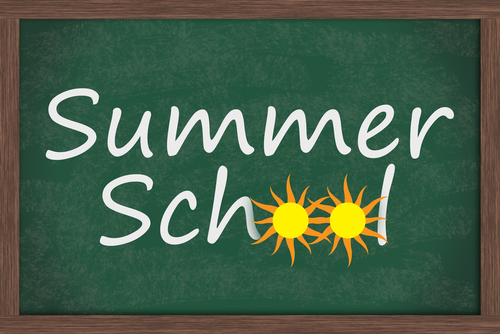 We are looking for new Preschoolers!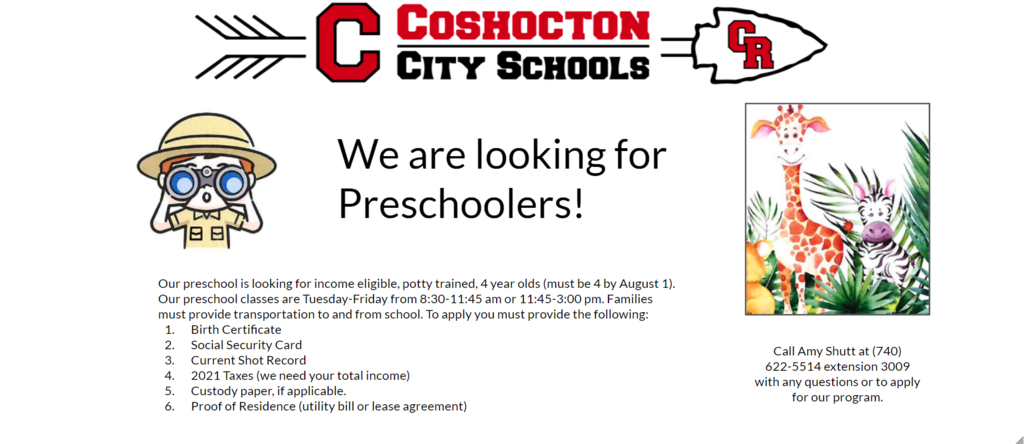 High school students and parents: Tomahawk yearbooks are still on sale at
www.yearbookforever.com
! You can order online to personalize, or you can bring $70 cash or check to room 300 to reserve your copy. #coshoctonpride

We have decided to extend our fundraiser until next Friday April 22nd. Please help us by selling as many cards as possible. The proceeds go to help fund AMAZING events such as Family Reading Night last week. #CoshoctonPride
https://5il.co/1815n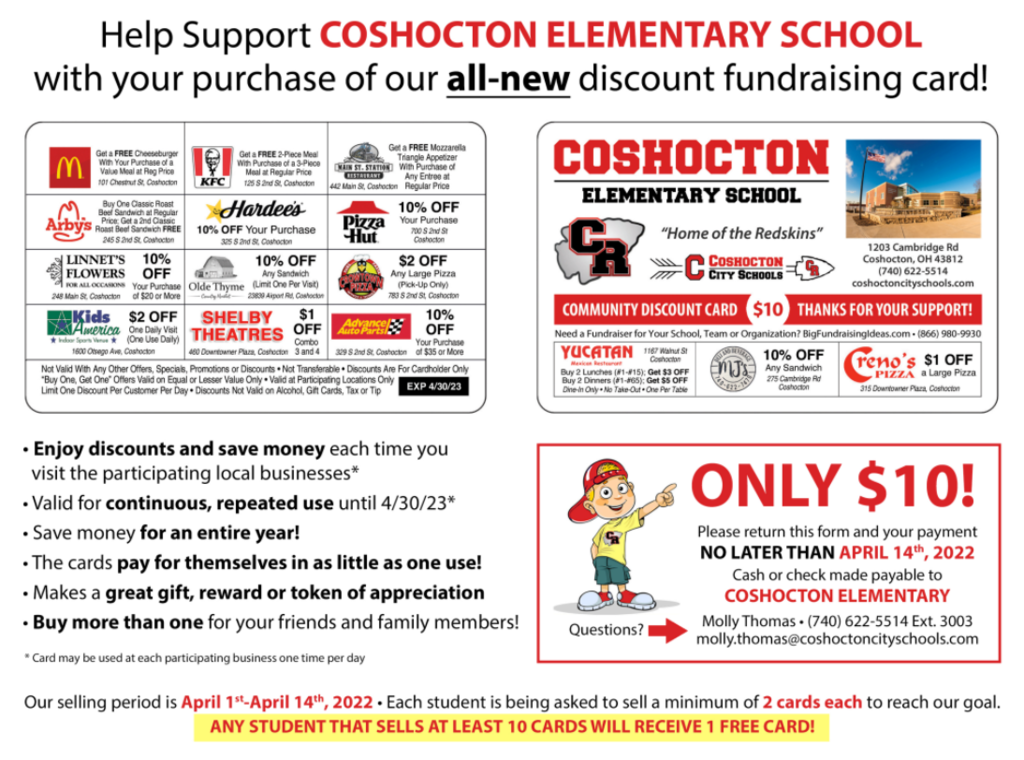 Don't forget... All Discount Card Order Forms are due TOMORROW (4/14)
Dear Parents/Guardian, Now that the weather is becoming warmer we have noticed some inappropriate attire here at Coshocton Elementary. I have attached a copy of the dress code here at CES. If you could please make sure your child is following the school's dress code it would be greatly appreciated. Thanks for your support, Mr. Casey
https://5il.co/18qxa

This is Mr. Meiser with an important announcement for all CES families. We need your help! As you know, we are in the middle of our discount card fundraiser. This fundraiser helps us put on FANTASTIC programs for our families like our Family Reading Night, we recently had with Outback Ray. If you enjoyed that activity and would like to see us hold others, please help! Don't forget these cards can make great gifts and can be used all around town. We are asking each CES student to sell at least 2 discount cards per student. However if a student sells 10 cards, they will receive a free discount card! Either fill out the attached form or call the office to place your orders. Thanks in advance for your support in helping provide amazing opportunities for our students.
https://5il.co/1815n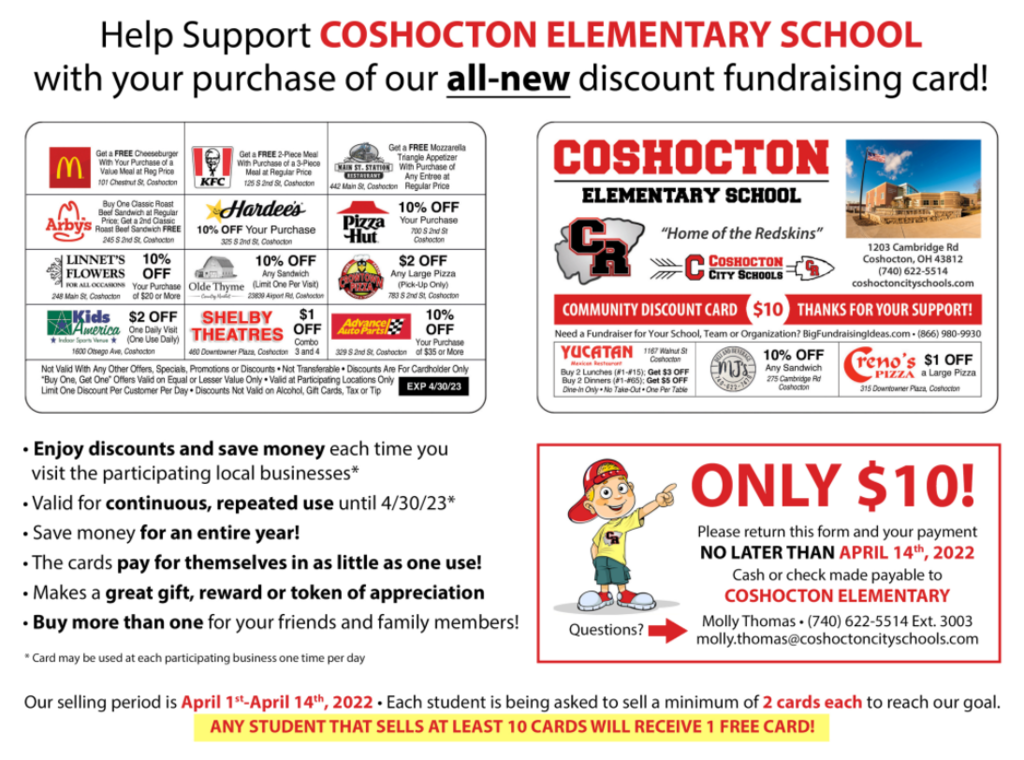 Lady Skins Summer Basketball Camp Contact Coach Bowman with any questions Please visit
www.coshoctoncityschools.com
, click on menu, documents, athletics, & girls basketball to view &/or print the form.